Genealogy - Familienforschung - Généalogie
The HUCH Immigrants to Lafayette, Indiana
Johann Christian Friedrich Huch immigrated to America on the ONECO, leaving from Bremen and arriving in New Orleans on 24 Oct 1848. He came first to Cincinnati, Ohio and was living there at least as late as 5 Mar 1849, when he filed a declaration of intent in Hamilton County.
Johanna Dorothea Luise (Huch) Starick, his sister, immigrated to America with her husband Johann Friedrich Starick and their infant daughter Anna Emilie Starick. They travelled on the LIVONIA, leaving from Bremen and arriving in New York on 15 May 1849.
By 1850 Friedrich Huch and the Starick family were living in Lafayette. Johann Christoph Gottfried Huch, their father, arrived in America in December 1850 after a rescue at sea by an American sailing packet from the sinking German steamship HELENA SLOMAN on which he had embarked from Hamburg. As the story goes, his intent was only to visit his children. But after the horrible adventure at sea he probably did not have the courage to undertake the trip again. He stayed in America and never saw his wife again who lived with the oldest daughter Auguste Wahrenburg in Altenplathow. After the death of her mother in 1867 and her husband in 1871, Auguste also immigrated to Lafayette with her six daughters. One can imagine the emotions when she saw her father, sister and brother again after more than 20 years.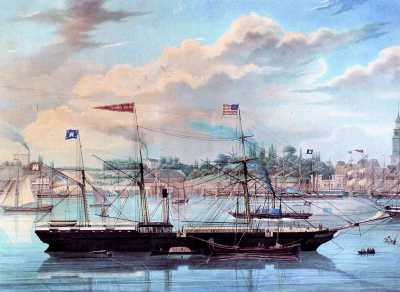 Johann Christoph Gottfried HUCH was a passenger on the third and last voyage of the SS HELENA SLOMAN
The steamship HELENA SLOMAN was built for the Hamburg shipowner Robert Miles Sloman by T. & Wakefield Pim, Hull, and was launched in 1850 (Bielbrief 11 May 1850). 235 x 27.9 x 18 Hamburg Füße (1 Hamburg Fuß = .28657 meter) length x breadth x depth of hold / 220.5 x 26.2 feet, length x breadth; clipper bow, 1 funnel, 3 masts, iron construction, screw propulsion, service speed 9 knots; accommodation for 42 passengers in 1st class, 32 in 2nd class, and 236 in steerage.
Her captain was Paul Nickels Paulsen. The HELENA SLOMAN, the first German transatlantic steamship, completed only 2 voyages between Hamburg and New York:
28 May 1850, maiden voyage, Hamburg-New York. 31 May 1850, put in at Deal with damage to her machinery. Arrived New York 1 July 1850.

11 August 1850, 2nd voyage, Hamburg-New York, with 13 passengers in 1st class, 34 in 2nd class, and 145 in steerage. She lost her bowsprit during a hurricane, and did not arrive at New York until 4 September 1850.

26 October 1850, set out from Hamburg on her 3rd voyage to New York. Called in at Southampton, whence she sailed on 1 November 1850. 19 November 1850, encountered a severe gale, during which her rudder, sternpost, and propeller were badly damaged, causing a serious leak. 28 November 1850, sighted in a sinking condition by the American sailing packet DEVONSHIRE, which took off her passengers and crew. 5 passengers and 4 of the crew were killed in an accident to one of the boats.
Descendants of
Johann Christoph Gottfried Huch - 9 Dec 1794 Pfitzdorf, Anhalt - 6 Aug 1878 Lafayette
and Johanna Marie Sophie Falke - 20 Feb 1793 Magdeburg - 25 Jan 1867 Altenplathow
1
Johanna Marie Auguste Huch - 26 Aug 1821 Genthin - 27 Sep 1904 Columbus OH
Married: 13 Nov 1846 Altenplathow
Husband: Karl August Wahrenburg - 2 Feb 1821 Altenplathow - 8 Jan 1871 Altenplathow
1

1-10

10 Wahrenburg children: details see here
2
Johann Christian Friedrich (Fred) Huch - 17 Feb 1824 Altenplathow - 23 Jan 1886 Lafayette
Married: 20 Jul 1852 Lafayette
Wife: Magdalena Reule - 9 Jan 1831 Hornberg, Württemberg - 28 Mar 1901 Lafayette IN
2
1
Mary Huch - Feb 1860 - 27 May 1949
2
2
George Godfrey Huch - Sep 1862 Lafayette - 14 May 1947
Wife: Lucinda Robertson - 9 Nov 1864 - 15 Feb 1935
7 Children: Bessie, Ida, Beulah, Frederick, Robert, Harold, Esther Huch
2
3
Katherine Huch - Mar 1866 Lafayette - Dec 1919
Husband: Fred Kiesel - died May 1935
2
4
William Huch - born 1868 Lafayette - died between 1870-80
2
5
Elisabeth Huch - May 1870
2
6
Magdalena Huch - Aug 1873 Lafayette - 19 May 1957
2
7
Louis Huch - 1874 Lafayette - 16 Mar 1876
2
8
Caroline Huch - 30 Jun 1876 - 11 Feb 1877
3
Johanna Dorothea Luise (Louisa) Huch - 15 Jun 1826 Altenplathow - 7 Nov 1884 Lafayette
Married: 21 Nov 1847 Altenplathow
Husband: Johann Friedrich Starick - 2 Oct 1818 Jänschwalde, Brandenburg - 1 Oct 1894 Lafayette
3
1
Anna Emilie Starick - Oct 1848 Berlin
Husband: William Geyer
3
2
William F. Starick - 21 Jul 1850 Lafayette - 22 Aug 1930
Wife: Helen A. Henderson - 1859 - 19 Jan 1944
9 Children: John, George, Raymond, Ralph, (Girl), Emma, Etta, Ruth, Grace Starick
3
3
John Starick - 1852 Lafayette
3
4
Frederick Starick - 1853 Lafayette
3
5
Augusta Starick - 8 Jan 1855 - 6 Oct 1935
Husband: Albert Koepsel - 1851 - 3 Jan 1930
2 Children: John F. and Charles Koepsel
3
6
Louisa Starick - 1857 Lafayette - 1 Feb 1882
3
7
Amelia Starick - 1859 Lafayette
Husband: Henry Vellinger
3
8
George L. Starick - 1863
3
9
Charles B. Starick - 1867 Lafayette - 26 May 1942
Wife: Katherine Haffner
Child: Margarete Starick - 1898 - 10 Aug 1900
3
10
Maria Starick - 1869 Lafayette
Husband: James Lyons



Greenbush Cemetery, Lafayette-Indiana
Gravestone of Friedrich Huch

Inscription: "Hier ruht in Frieden Friedrich Huch
geb. den 17. Feb. 1823 in Altenplathow bei Genthin, Germany
gest. den 23 Jan. 1886"

Error: he was born in 1824
Wahrenburg Genealogy (entry page)
Family Tree of August Wahrenburg (1821-1871) & Auguste Huch including US immigration details
Family Tree of Wilhelm Wahrenburg (1847-1923) & Friederike Führ - Germany
Family Tree of Carl Wahrenburg (1849-1897) & Caroline Reule - USA
Family Tree of Marie Klugel Weber Wahrenburg (1851-1912) - USA
Family Tree of Auguste Neumann Wahrenburg (1852-1945) - USA
Family Tree of Luise Scheurenbrand Wahrenburg (1854-1893) - USA
Family Tree of Wilhelmine Ebbeler Wahrenburg (1856-1939) - USA
Family Tree of Anna Pfundt Wahrenburg (1859-1881) - USA
Family Tree of Bertha Seraphim Wahrenburg (1861-1935) - USA
Huch Genealogy (Auguste Wahrenburg's family) incl. US immigration details

E-Mail:


Copyright © by Gisela Dirac