Genealogy - Familienforschung - Généalogie
The Wahrenburg immigrants
to Lafayette, Indiana, USA
On October 5, 1871 Auguste Wahrenburg arrived in New York on the S.S. Silesia coming from Hamburg. Auguste was 50 years old and accompanied by her 6 daughters. They came from Genthin-Altenplathow (East-Germany).

Auguste's oldest son Wilhelm Wahrenburg was the only member of the family who stayed in Germany. He was engaged and married Friederike Führ on October 8, 1871 - as soon as he had received a telegram that his mother and sisters had well arrived in the "New World".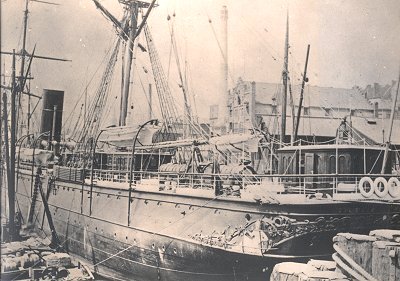 Trans-Atlantic Passenger Ship "Silesia"
Built by Caird & Co, Greenock, Scotland - Tonnage: 3.156, 13 knots
Maiden Voyage: Hamburg-Havre-New York: June 22, 1869
Passenger List for the Silesia leaving on 20 Sep 1871
including Auguste (mother), Marie, Auguste, Luise, Minna, Anna, Bertha Wahrenburg from Altenplathow
Wilhelm took over the small cooper business of his father August Wahrenburg, who had died on January 8, 1871. Wilhelm never saw his family again. The story goes that he was very sad about that fact during the rest of his life. Every time a letter arrived from the States he cried. Auguste kept writing and informed her "German son" about the important events of his brother's and sisters' new lives.
The scrap of paper below, written in Auguste's hand in the old German script, was saved only because it had the address of her daughter Bertha Seraphim on the back. It is written without punctuation and has many mistakes, but still makes sense.
"gefühle ich kan es schon tragen und der liebe Gott wird alles leiten und lenken nach seinem wohlgefallen nun lebt wohl in der Hofnung das ihr alle Gesund seid und bald wieder Schreibt der Herr sei mit Euch und erhalte Euch treu bis wir uns droben wieder sehen"

"feelings I can bear it and God will lead everything after his pleasure I say farewell now and hope that you are in good health and that you will write soon God be with you and keep you faithful until we see each other again in heaven"



Lafayette Indiana
Tippecanoe County Courthouse

Auguste and her daughters went to Lafayette, Indiana where her second son Carl Wahrenburg, her brother Friedrich (Fred) Huch, her sister Luise Starick as well as her father Johann Christoph Gottfried Huch were living. Carl had immigrated in 1868 at age 19. Friedrich Huch had immigrated in 1848, originally to Cincinnati, Ohio. Luise Starick had immigrated in 1849 with her husband and infant daughter.

By 1850 Friedrich Huch and the Starick family were living in Lafayette. Johann Christoph Gottfried Huch arrived in America in December 1850 after a rescue at sea by a British sailing packet from the sinking German steamship on which he had embarked from Hamburg.

When Auguste arrived in America, she had been separated from her father and siblings for more than 20 years, and her daughters never knew their grandfather, uncle, aunt and American cousins until then.

August WAHRENBURG - 2 Feb 1821 Altenplathow - 8 Jan 1871 Altenplathow
and Auguste HUCH - 26 Aug 1821 Genthin - 27 Sep 1904 Columbus, Ohio
All of their children were born in Altenplathow, near Genthin, Germany.
| | |
| --- | --- |
| August and Auguste Wahrenburg, Berlin | Auguste Wahrenburg, Lafayette |
Children of August Wahrenburg and Auguste Huch
1
Wahrenburg
Wilhelm Karl August Wahrenburg - 9 Aug 1847 Altenplathow, Germany - 8 Aug 1923 Altenplathow, Germany
Wife: Auguste Friederike Führ
Children: Auguste, Karl, Wilhelm, Otto, Fritz, Anna, Otto, Richard Wahrenburg
2
Wa(h)renburg
Carl Gustav Wilhelm Wahrenburg - 28 Jun 1849 Altenplathow, Germany - 5 May 1897 Lafayette, Indiana
Wife: Caroline Christina "Carrie" Reule
Children: George, Clara Wa(h)renburg
3
Weber
Marie Anna Auguste Wahrenburg - 25 Mar 1851 Altenplathow, Germany - 28 Nov 1912 Dayton, Ohio
1st Husband: Friedrich Wilhelm Weber
2nd Husband: Wilhelm Klugel
Child: Carl Weber
4
Neumann
Auguste Anna Sophie Wahrenburg - 28 Aug 1852 Altenplathow, Germany - 19 Dec 1945
Husband: Christian Charles Frederick Neumann
Children: William, Anna, Otto, Harry, Robert Neumann
5
Scheurenbrand
Luise Anna Franziska Wahrenburg - 20 May 1854 Altenplathow, Germany - 12 Jun 1893 Boswell, Indiana
Husband: John Scheurenbrand -
Children: Albert, Pauline, Frederick, Bertha, Ruth, Charles Scheurenbrand
6
Ebbeler
Wilhelmine Emilie Wahrenburg - 20 Jul 1856 Altenplathow, Germany - 5 Jan 1939 Lafayette, Indiana
Husband: Ernst Jacob Ebbeler
Children: Herman, Alfred, Louise, Paul, Martha, Wilhelmina, Edward, William, Helen Ebbeler
7
Wahrenburg
Franz Otto Carl Wahrenburg - 3 Dec 1857 Altenplathow - 2 Nov 1859 Altenplathow
8
Pfundt
Anna Johanna Elisabeth Wahrenburg - 4 Apr 1859 Altenplathow, Germany - 9 Nov 1881 Gasconade Co., Missouri
Husband: Hermann Pfundt
Children: Hermine Pfundt and a still-born baby boy (9 Nov 1881)
9
Seraphim
Bertha Hermine Amalie Wahrenburg - 16 Oct 1861 Altenplathow, Germany - 18 Apr 1935 Cincinnati, Ohio
Husband: Henry Seraphim
no children
10
Wahrenburg
Stillborn daughter - no name - born and died 04 Feb 1867 in Altenplathow

The American Wahrenburgs - 26 August 1902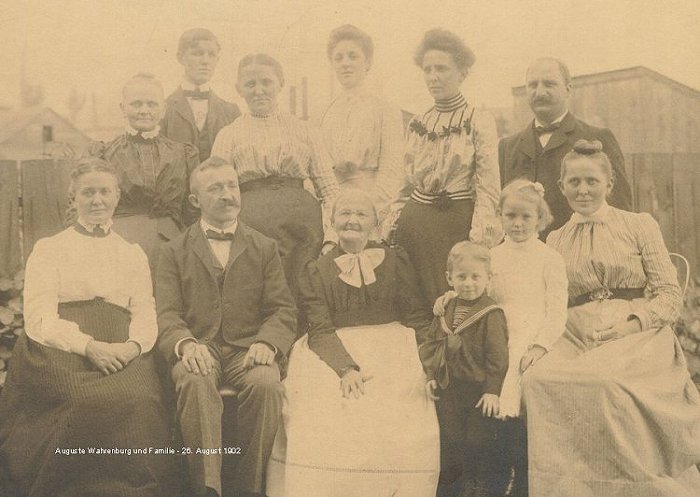 26 August 1902 - The picture was taken on the 81st birthday of
Auguste Johanna Marie Wahrenburg geb. Huch
in Lafayette, Indiana. Present are her four living children in the USA
Marie, Auguste, Bertha und Wilhelmine. Carl, Luise and Anna were dead.

in front, from left to right:
Daughter Marie (Mary) Anna Auguste Klugel, widow of Weber, née Wahrenburg - 51 yrs
Son-in-law Heinrich (Henry) Seraphim, husband of Bertha S., née Wahrenburg - 37 yrs
Auguste Johanna Marie Wahrenburg, née Huch - 81 yrs
Great-grandchild Carl Zimmer, son of grand-daughter Anna E. Zimmer, née Neumann - 3 yrs
Grand-daughter Helen Clara Marie Ebbeler, daughter of Wilhelmine Ebbeler, née Wahrenburg - 6 yrs
Daughter Bertha Hermine Amalie Seraphim, née Wahrenburg - 41 yrs
in the back, from left to right:
Daughter Wilhelmine (Minnie) Emilie Ebbeler, née Wahrenburg 46 yrs
Grand-son Harry Neumann, son of Auguste Neumann, née Wahrenburg - 22 yrs
Daughter Auguste Anna Sophie Neumann, née Wahrenburg - 50 yrs
Grand-daughter Bertha Scheurenbrand, daughter of Luise Scheurenbrand, née Wahrenburg - 18 yrs
Grand-daughter Anna E. Zimmer, née Neumann, daughter of Auguste Neumann - 26 yrs
Grand-son-in-law John Zimmer, husband of Anna Zimmer - 31 yrs
Auguste died in September 1904 at age 83 in Columbus/Ohio at the home of her
youngest daughter Bertha Seraphim. She was, however, buried in Lafayette.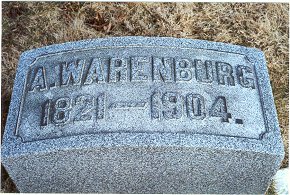 Greenbush Cemetery, Lafayette-Indiana
Wahrenburg Genealogy (entry page)
Family Tree of August Wahrenburg (1821-1871) & Auguste Huch including US immigration details
Family Tree of Wilhelm Wahrenburg (1847-1923) & Friederike Führ - Germany
Family Tree of Carl Wahrenburg (1849-1897) & Caroline Reule - USA
Family Tree of Marie Klugel Weber Wahrenburg (1851-1912) - USA
Family Tree of Auguste Neumann Wahrenburg (1852-1945) - USA
Family Tree of Luise Scheurenbrand Wahrenburg (1854-1893) - USA
Family Tree of Wilhelmine Ebbeler Wahrenburg (1856-1939) - USA
Family Tree of Anna Pfundt Wahrenburg (1859-1881) - USA
Family Tree of Bertha Seraphim Wahrenburg (1861-1935) - USA
Huch Genealogy (Auguste Wahrenburg's family) incl. US immigration details

E-Mail:


Copyright © by Gisela Dirac